When it comes to handling dry or semi dry bulk material, there are few means to transport the material from point A to point B. The common options are pneumatic conveying equipment, frequently dense or dilute phase, belt conveyors, screw augers or vibratory feeders, flat pan style or enclosed tube style. There certainly is a time and place for each of these options but we will focus on the vibratory feeder design.
Companies looking to make a buying decision on which type of equipment to install that will handle the material typically turn to the vibratory feeders that are powered by a pneumatic or air piston vibrator for one of or a combination of a few reasons: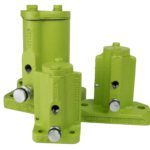 Air Powered Feeders Work Well Within a Budget – First, and maybe most importantly, the purchase price. The air powered vibratory feeders can be the low cost alternative to the electromechanical or electromagnetic powered vibratory feeders. The biggest cost savings can come directly from the vibratory drive or mechanism and the vibratory controls. Electromechanical feeders typically have two vibratory motors while the electromagnetic feeders typically have one large vibratory drive attached. Each of these electric powered options require an electrical control box, with dual thermal overload protection for the electromechanical vibratory motors, for on/off operation, speed control or intensity of the vibration control. In contrast, the air powered feeders are driven by a single non-impacting piston, for example the Cleveland Vibrator VMSAC design, units and either controlled by a manual ball valve or 2-way, normally closed, solenoid valve.
They Have an Explosion Proof Design – Another reason why the air powered units are installed is because the non-impacting piston vibrators are deemed intrinsically safe and acceptable for operation in hazardous duty. Without the impact of the piston nor any electrical components, these units can be used in all areas, including the dusty ones.
They Instantly Start and Stop Material Flow – Lastly, the pneumatic powered vibrators can start or stop instantly. Why is this important? This helps when trying to properly meter the correct amount of material in a package or add the appropriate amount of product into the mixer for production processing. Here is a short YouTube video to further explain what I am talking about. The key is the type and location of the valve. A quick acting valve, like a ball valve, allows for the quick burst of air to reach the vibrator. If this valve is located close to the vibrator, within 5 feet or so, the piston inside the vibrator will start and stop as soon as the air is turned on or off.

However, it is important to note, that there are some restrictions in terms of size (length and width) or capacity (tons per hour) that the air powered feeders can handle. To confirm or deny if the air powered vibratory feeder design is appropriate for the application being reviewed, please contact the Cleveland Vibrator team for help.