I'm sure most of us remember the changeover push to convert our old standby of paper bags to plastic ones and how we somewhat resisted this at our local grocery stores. But as usual, with a little pushing from genius marketing gurus of our time, we eventually gave in and accepted the changeover. "Paper or Plastic" has pretty much disappeared to plastic only in today's day-in-age.
I believe we went through the same changes as it pertains to electrical controls for our electric vibrators and vibratory equipment manufactured by The Cleveland Vibrator Company. When I started at CVC in the 60's, pretty much all controls were steel construction with the NEMA 4X being stainless and the explosion proof enclosures were cast aluminum. We carried several types of sizes of NEMA-rated enclosures in stock just to try and cover all the bases. The responsibility of our sales team was to identify the NEMA-rated requirements of our customer's application. This at times was easier said than done of course. Purchasing was given the responsibility of having the enclosures in stock plus having suppliers who could deliver the enclosures in a timely fashion when we experienced an out of stock situation. Lastly, of course, our manufacturing team was given the task of manufacturing the many types of controls required by our valued customers.
At the time we pretty much understood that any type of control box we built would have a steel, stainless steel or cast aluminum housing. Usually, the cast aluminum enclosures were the most difficult to work on since all of the control buttons and power cable holes had to be drilled and tapped. If you messed up just one hole, the whole enclosure worth several hundred dollars turned into scrap instantly. We have at times sent the supplier of the cast enclosure a control layout so the could drill and tap for us. With most of the holes being tapped with straight pipe thread and with our machine shop drilling and tapping mostly taper pipe threads, it made sense from a tooling and gauging situation to job this somewhat touchy operation out to the cast enclosure supplier.
This stayed pretty much this way at Cleveland Vibrator through the 60's and 70's, but slowly in the 80's we started to see some enclosures in plastic. I remember my first exposure to plastic controllers was with our rotary electric vibrators supplied from Japan. We had hooked up with these folks as their U.S. dealer to promote and sell the Yaskawa line of rotary electric vibrators. We carried part of their product line and named it the model RCS rotary electric vibrators which were 115/1/60 cycle single phase vibrators. The first shipment of these vibrators arrived at Cleveland Vibrator with their own plastic NEMA-1 rated controls.
We knew at this point our customers were not ready for plastic controls especially NEMA-1 rated… We basically removed the "guts" from the plastic enclosure and installed them in a steel NEMA-12 rated enclosure. From that point on we ordered the vibrators less controls and built them here at Cleveland Vibrator.
As the technology progressed in the 80's we found more and more of our controls being replaced by non-metallic enclosures to the point that we have standardized over the course of several years to use non-metallic enclosures on our timers, single motor starters, single phase vibrators, junction boxes and other accessories for vibratory equipment.  We still use steel enclosures for our larger starter boxes and cast aluminum for explosion proof.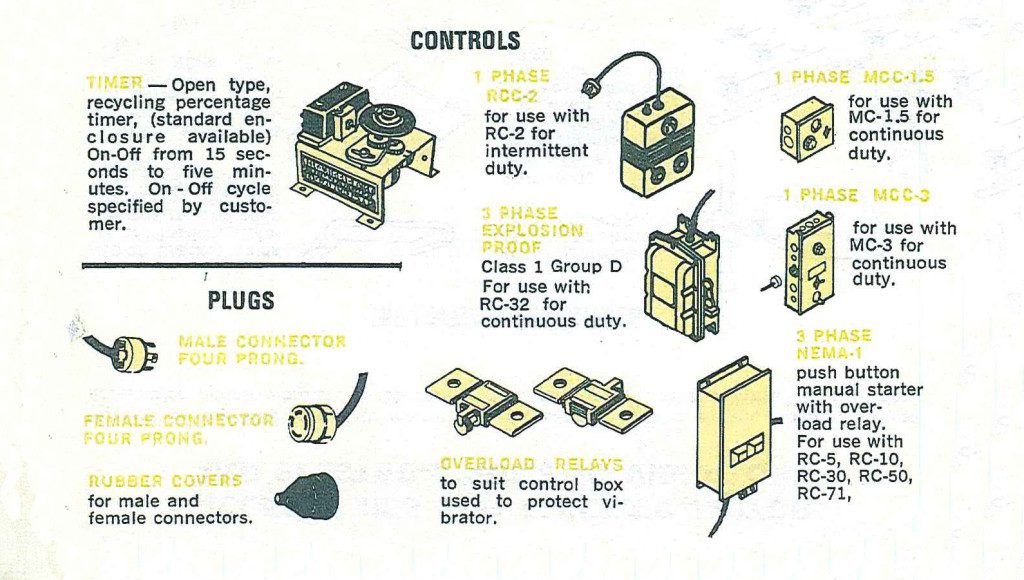 As you can see above, here are some samples of how the enclosures are used in both steel and non-metallic. I would say that now the catch phrase for CVC should be "Metal or Non-Metallic" as it relates to our controls. By using non-metallic enclosures that have a NEMA rating from 1 through 4x, we limit the number of sizes we have to stock. Plus it assists in taking care of our customers on a timely fashion.
Along with the controllers of yesteryear, we supplied male and female plugs for the vibrators but realized after a few years that this at times did more harm than good. The problems we ran into in the field were the compatibility of our plugs with the customer's outlets. There were just too many variations. Plus our 220 volt plugs were different then our 460 volt plugs. It seemed at times no matter which male-female assembly we shipped with the vibrator, they were wrong. We eventually had to discontinue this practice and when we changed electric vibrator suppliers in the 80's from Dynapac to Yaskawa, we replaced the plug feature with three added features as value added. Cleveland Vibrator supplied a six foot power cord with each rotary electric vibrator, which saved our customers from looking for the correct size power cords for their drive. We supplied anti vibration putty in the terminal boxes which would isolate the power leads during the vibration cycle and prevent one or more of the power leads from breaking causing the vibrator to single phase, short the windings or cease to operate. Lastly, we supplied grade 5 fine thread mounting bolts and nuts so our customer have the correct fasteners and make the vibrator ready to mount once received.
The Cleveland Vibrator has come  a long way in the past and as we enter our 93rd year, we are currently the sole distributor for URAS-TECHNO, in the U.S which was formally YASKAWA.
Have questions about proper rotary electric vibrator installations? We're here to help!