There are two basic designs available when selecting a vibrating (linear) feeder: electromagnetic and electromechanical.  Air powered vibrating feeders are basically an alternate to the electromechanical feeders as they have the same simple brute force design concept – the vibratory drive is directly attached to the tray. Our challenge is to obtain as much information about the application to make recommendations or at least provide the advantages and disadvantages so the customer has enough information to make an informed decision in order to select the best possible solution for their application.
In essence all three styles could be suitable, but it's quite possible that only one of the three could be the most advantageous.  The following are the basic advantages and disadvantages to these three feeders.
Electromagnetic Feeders – The Electromagnetic Feeders provide variable intensity with typically fixed frequency of3600 vibrations per minute.  They only require single phase power, offer quick stopping and are ideal for cold weather installations.  However, they are sensitive to line voltage fluctuations and temperature swings, can require tuning if there are rate or load changes, require skilled maintenance and are not suitable for hazardous areas.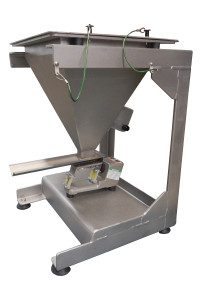 Electromechanical Feeders – The Electromechanical Feeder design is the most versatile as the power is provided by twin rotary electric vibrators where a multitude of forces and frequencies are available that can provide a wide range of stroke/frequency combinations.  You can further enhance the flexibility of this design by controlling the twin vibrators with a VFD (variable frequency drive) which provides quick and easy adjustment without having to manually adjust the eccentric weights.  Since this design has the twin vibrators synchronizing to produce linear force, these feeders do not stop shaking immediately after power is turned off as the eccentric weights coast to a stop.  A VFD with dynamic braking or a starter with a dynamic brake will end the vibration much more quickly to limit the erratic motion at shut down.  This design provides the quietest operation and is less susceptible to head loads.  Explosion proof vibrators are available for operation in hazardous locations.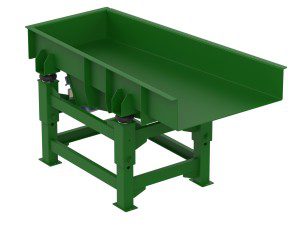 Air Powered Feeders – This low cost design is ideal for hazardous locations as the drive is an air cushioned piston vibrator which produces linear force and can also handle high temperatures.  It's the simplest to maintain and the controls are the most economical of the three where a simple regulator that can adjust the air pressure will vary force & frequency output.  While this feeder doesn't require tuning, there are limitations to the physical size of the tray & feed rates, it's less suitable for outdoor operation as freezing air lines are a problem and is susceptible to head load.
Consider the advantages and disadvantages outlined above to determine the best possible solution for your requirements.  While this information is provided as an aid, you should always enlist the assistance of an application specialist to select the proper feeder for your application. Call or click today for more information!