We know it's a big deal when it comes to talking about "sticker price", especially when it deals with expensive pieces of equipment, or rather process investments that will provide efficiency and give you the best final product possible. Customized pieces of equipment tend to fall under the larger price tags, but don't be fooled, there are ways to provide the best equipment possible while keeping it in a reasonable price range. Cleveland Vibrator and HK Technologies take every unique application and gives you a solution to best fit your process, and sometimes that solution much simpler than what you thought it was going to be…
Although we have a complete line of screening equipment from small lab models in 3", 8" and 12" diameters all the way up to 60" diameter screeners we still receive numerous calls from customers looking for customized screeners built around a piece of equipment or a specific process. While many of these applications can be challenging and downright difficult, our shop manager finds them all interesting and challenging. One of the more popular requests are what we call drum sifters or drum screeners. The screeners are simple screeners designed to fit on top of an existing container or a manway on a piece of process equipment. Typically, the customer is not looking to spend a lot of money and is just interested in a way to remove any large agglomerates or trash from entering his final product or his mixing process. These drum screeners will most likely have very coarse mesh screens – anywhere from a 3 mesh to a 20 mesh. Below is an example of a drum screener where we utilized one of our high speed turbine vibrators secured to an adjustable clamp. The air operated vibrator sends out 20,000 RPMs of vibration to the screen surface. The advantage to this set up is low cost, very portable and simple to clean. We attached 3 support brackets allowing the drum screener to simply set over the edge of the fiber drums.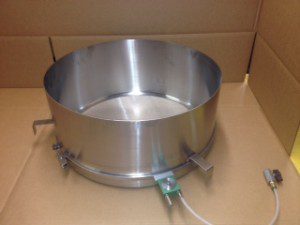 Below is another example of a simple, low cost drum screener where the customer needed the flexibility of portability but wanted an rotary electric vibrator. Some simple handles were provided so the operators could move the drum sifter from container to container.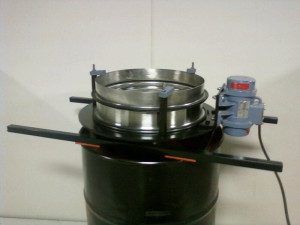 Other applications involve an in line process where the customer needs to install a screener. The photo below shows a small 8" vibratory screener where the customer needed to transition down to a 1.5" diameter discharge tube. We simply fabricated a transition funnel that was held in place with the 8" sieve with an adjustable clamping ring. We again used a mini turbine vibrator to aid in vibrating the sieve to increase throughput of the product into the process tube. This particular device was held in place by a support arm.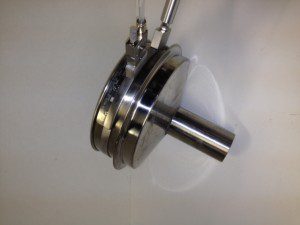 The above vibratory screeners are just a few of the low cost vibratory screening applications we can offer for your simple vibratory screening problems. So the next time you are looking for a custom vibratory screening solution give us a call for a recommendation. We offer solutions from the simplest application to the most complex applications. Contact us today for more information.