Anyone who knows me well, knows about my undying love for chocolate. I had a great aunt who lived 98 wonderful, rich years and was quick as a whip until her final days… so what was her secret? A piece of good quality chocolate a day will let you live long and prosper. I will never forget that and have adopted that mantra. Since I began working at Cleveland Vibrator over 2 years ago (wow times flies!) I have seen how industrial vibration mixes with some of my favorite things in life. One of which, if you haven't guessed already, is chocolate.
I was perusing through our case history archives last week and found one dating back to the 1960's where industrial vibration was being used in a leading candy producer's factory. Their chocolate molding department was encountering an air bubble problem in their molds during the filling process, so they reached out to Cleveland Vibrator for a solution. Our engineering department specially designed a high frequency vibratory table powered by rotary electric drives and had it fitted with stainless steel product contact surfaces and rubber capped grids. They found that the use of this table increased production, reduced mold repair costs and completely eliminated imperfect molds. The price tag for this piece of Vibratory Equipment? A whopping $600.00. You can see it photographed in our featured shot for this blog post above.
So why is this relevant in today's market? You know the old adage, "if it isn't broke, don't fix it."? This certainly applies here. We have supplied many chocolate factories over the years with large vibratory table models for grander, more extensive processes. Our VJ Vibratory Jogger Table is always a crowd favorite for smaller scaled, more intricate operations. Both successfully remove voids in candy molds beautifully and adds efficiency to your process. Our VJ Model is pictured below.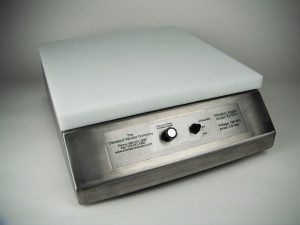 Recently, a company reached out to us for a somewhat different chocolate application which had me extra excited to be a part of the product testing. Raise your hand if you have a strange addiction to Nutella. Yeah, me too. You can put that stuff on anything and it will be like a little taste of heaven. If you haven't tried it, I strongly suggest you drop what you're doing and go get a little jar from your local grocery market. Our customer needed a solution to evenly spread Nutella over their medium sized pans of chocolate cake for wholesale purposes. This vibratory solution also needed to be automated so it would fit seamlessly into their process. They sent us samples of their product and with a few rounds of testing, we created a uniquely designed, automated Vibratory Belt Table fit with rotary electric motors and safe product contact surfaces. They are now able to load two pans side-by-side with the nutella spread somewhat over the top at the beginning of the conveyor and have a finished, evenly spread frosting at the end. It also removed air bubbles for a nice smooth finish. Don't believe me? You can see it for yourself. The testing can be seen on our YouTube Channel and the actual Belt Table is shown below.

These are just a few examples of how industrial vibration works into the food industries. From screening licourice to settling frozen chicken pieces into its packaging, something new pops up in our FAB Department all the time that makes us excited to do what we do.
I sincerely apologize if you now have an incredible sweet tooth craving for delicious chocolate or sweets after reading this post. It's surprises me that I don't weigh a million pounds but hey, regular exercise and a balanced diet works wonders!
Do you have a food-related application that requires vibration? We're here to help, contact one of our Vibration Education experts today.
Until next time Movers & Shakers, #ShakeOn!