When it comes to unloading dry or semi-dry bulk materials from a hopper trailer, belly dump, side dump, end dump or similar type of truck, there are a few vibratory options available to the market. Depending on the power supply available on the mobile equipment, air or electric, the vibratory components change. We will first look at the air powered vibrator options then turn to the electric powered vibrator options.
The pneumatic or air powered units that are available are the piston style vibrator or the turbine style vibrator. These two are by far the most common air powered vibrators found on mobile equipment. The Cleveland Vibrator Vibra-Might air piston vibrators are popular units in the field. These vibrators have a dual diameter piston which allows for start up at any mounting angle and there is no spring on the inside of the vibrator. No spring equals less wear parts. These vibrators also have a single exhaust port and come standard with the exhaust port protector. The exhaust port protector helps keeps dust, dirt, water and other contaminants out of the bore of the vibrator. These Vibra-Might air piston vibrators come in both 4-bolt square base and 2-bolt rectangular base designs. The 2-bolt design is more common and the slotted bolt holes of the 1200 VMR (impacting piston) or 1200 VMRAC (non-impacting piston) to cover a wide range of new or existing bolt patterns. If there is no oiler or lubricator on the truck itself, we do offer coated casted bodies. These coated units can be operated with or without lubricant. Added lubricant will help the longevity of the vibrator but it is not necessary.
Interested to learn more about the piston vibrators on hopper trailers? Please see our application report with Truck Equipment out of Lincoln, NE.


The Cleveland Vibrator Turbomite pneumatic turbine vibrators can also be used on mobile equipment. The turbine style vibrator is lube free by design, due to the permanently sealed and greased bearing inside the unit, quiet when in operation and very good on air consumption. These turbine vibrators also come with exhaust port protection to keep contaminants outside of the body of the vibrator. This protected exhaust port helps extend the life of the vibratory component itself. The wide range of mounting styles of the Cleveland Vibrator Turbomite pneumatic turbine vibrators allows for various bolting options and even portable clamp on options. To learn more about our pneumatic turbine vibrators, click here, or to read about field applications, review this application report with Cattle Empire.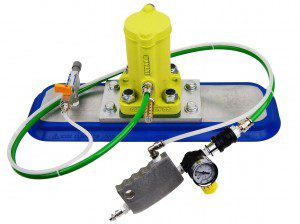 Another portable air powered option available is the vacuum mounted vibrator. These have a VMSAC model, non-impacting Vibra-Might air piston, vibrator bolted to a vacuum pad. The Cleveland Vibrator Vacuum Mounted vibrators come as complete assemblies. The vibrator, the vacuum cup, the vacuum generator, the vacuum controls, the air pressure regulator for the vibrator, the safety cable and independent air line plumbing is all included with the Vacuum Mount vibrator kit. The vacuum cup sticks to the side of the hopper bottom or underside of the belly or end dump trailer to break up bridging, rat-holing or clogged material.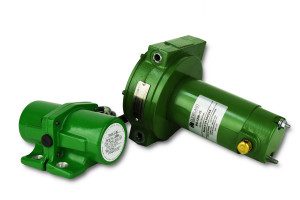 If air powered is not your thing, we do have a full range of 12V DC vibrators that can operate directly off the truck's battery. Depending on the application, there are different sized DC vibrators available. Here are a few examples of models suited for various sized equipment:
| | | |
| --- | --- | --- |
| Cleveland Vibrator Model | Hopper or Trailer Capacity | Duty Cycle of Vibrator |
| DC-Z-80 | 1 cubic yard hopper (800 lbs max) | Continuous Duty |
| DC-Z-200 | 2 cubic yard hopper (2,000 lbs max) | Intermittent Duty |
| MG-400-12 | 2-4 cubic yard hopper (4,550 lbs max) | Continuous Duty |
| MG-800-12 | 7-10 cubic yard hopper (8,450 lbs max) | Continuous Duty |
| MG-1200-12 | 6-12 cubic yard bed (11,930 lbs max) | Continuous Duty |
| MG-3500-12 | 12+ cubic yard bed (35,000 lbs max) | Intermittent Duty |
*The MG-400, MG-800 and MG-1200 are also available in 24V DC.
Who has time for carry back's these days? Depending on the application, we have a durable solution to help. If you have any questions or would like to learn more, please feel free to contact our team at any time. We are here to help keep you moving!