When you supply a product that is the main drive source for a particular piece of equipment it, usually takes the first blame when the equipment doesn't function properly. Such was the case back in July when one of our larger O.E.M. customers (Original Equipment Manufacturers) contacted us on a drive failure problem experienced by one of their customers who mine gold in Canada. The Rotary Electric Drives were mounted on a dewatering screener and per the end user customer they have experienced failure of 4 to 5 vibrator motors since May and normally they last for years. With Cleveland Vibrator on the nameplate of the vibrators, it was understandable the customer would look to Cleveland Vibrator for answers plus bear blame for their problems.
They contacted the O.E.M. who in turn called us to asked if we would call them directly. We followed up the same day and discovered with our initial conversation the motors were over 12 years old. This is a long time for a vibratory motor to last in this type of operation. We were able to track this from the serial numbers supplied by customer and our next question was if the units had been repaired during that time. The customer confirmed they had recently been repaired by a local repair shop in Canada and also understood the previous ones which failed were also repaired at the same repair shop. The customer was concerned about mounting any additional drives until they could find out what was causing the failures.
We suggested sending the two drives to Cleveland Vibrator in Ohio and after discussing at their end, the two drives arrived at our doorstep. Our first response was  "WHAT THE HECK?" when they arrived and were in worse shape than expected for only being in service a few weeks. From our visual inspection, we noticed what looked like steel bars protruding  through the weight covers but upon closer inspection it was determined they were extra grease fittings drilled and tapped in to the bearing housing cover. We would consider this a big no-no since this could cause over greasing and vibrator could fail prematurely. Also, we found that one of the pipe fittings had come loose or broken off and caught on one of the eccentric which in turn ripped a "Titanic hitting the iceberg type of gash" in one of the weight covers. This also could have caused the drive to fail prematurely.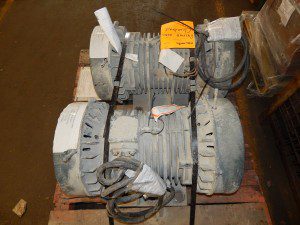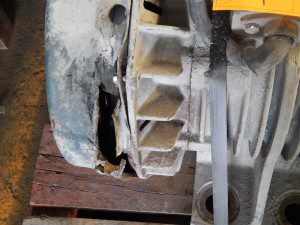 Featured Images: *This is the gash we are talking about previously
They contacted some of our previous customers we had done repairs for and sent them a customer service rating questionnaire. Basically, they wanted to know if our customers were happy with our workmanship, response time, was are charges reasonable etc. They rated Cleveland Vibrator a 9 out of a possible 10. The units were repaired as is shown by the attached pictures and we did inform our valued customer that we would remove the extra grease pipe fittings added through the weight covers into the bearing covers and sealing the tapped holes with pipe plugs. We made them aware that Cleveland Vibrator would not authorize greasing the bearings in this manner. I want to also add that our inspection and repair policy for rotary electric vibrators is the same for all industrial vibrators. Once a customer calls requesting to send in the vibrator for repair evaluation, we issue them a Returned Goods Authorization number or an "RGA" number for short. The unit is shipped back to Cleveland Vibrator freight prepaid. When the unit arrives, we do a visual inspection and if needed take pictures of the unit. We are basically looking for any physical problem that should be documented or possibly fractures in the vibrator housing that would make the unit beyond repair. Our electrician will then check the resistance and bearings and document any problems found. We then send it to the repair shop to be disassembled and all parts inspected and tested. Once we receive the evaluation a written repair report in sent to our customer for approval.
The evaluation normally covers the following:
     1. Rewind of the stator with all class "F" material

     2. Double dip and bake the windings with Thermal Epoxy Resin.

     3. Supply and install new bearings, re-assemble the unit then run tests and finally paint motor.
I would consider this particular instance as a normal repair but there are times we will need to replace the power cord assembly to include the cable, strain relief and bell mouth connector. We also may require replacing one or more weight covers, terminal blocks, terminal block cover, we may even require metalizing and machining of shaft and the bearing journals. Our repair costs also have guidelines to have the price not to exceed 60% the cost of a new unit. At that point, we consider the unit beyond repair. We have had customers authorize repair cost above 60% cost new due to availability of replacement or if the unit is a competitor unit and we don't have the exact match as it pertains to mounting bolt pattern. We have repaired quite a few competitor vibrators over the years and just consider this as part of our customer service to our valued customers. We do not charge for the repair evaluation even if customer decides not to repair the unit, in this case if they request the unit back it will be shipped back dis-assembled. We warranty our repair workmanship for one year which far exceeds the normal 30, 60 or 90 day warranties you receive when something is repaired. The policy of always replacing the bearings is part of this. We hear quite often the motor only needs rewinding which we will do as well. The problem with that is not knowing how long the bearing have been in service and how much bearing life they have left on them. Plus in the real world, we know the bearing shields can become dented, distorted or even damaged when it is removed from the shafts and we don't want to take a chance of re-installing a bearing that may prematurely fail. Normally with this happens it also shorts out the windings creating a potential warranty issue if we didn't replace the bearing first. The oil commercial, and I believe it was "VALVOLINE" said it best in "YOU CAN PAY ME NOW OR PAY ME LATER".  Our interpretation of this is let's do it right the first time so we won't have to do it over. I am a firm believer that "CUSTOMER SERVICE" is one of the main reasons we are in our 91st year of business.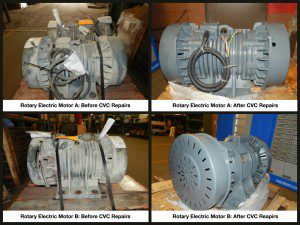 Featured Image: This is the before and after shots of this particular repair order
Let us help you solve your vibratory problems. Our company representatives are here to find a solution to keep you moving. Contact us today!